Modern Knitwear with inspiration from Ireland.
Twisted Knitwear is owned by Karen O'Hanlon Cohrt, an Irish woman, mother, science writer and researcher who channels her creative energy and passion into designing stylish and modern knitwear for babies, children and adults. Karen was born and raised in Ireland but moved to Denmark in 2011 where she now lives with her husband and young family. With Twisted Knitwear, Karen blends the simple and elegant nature of Scandinavian design with the intricate cables and twists seen in traditional Irish knitwear.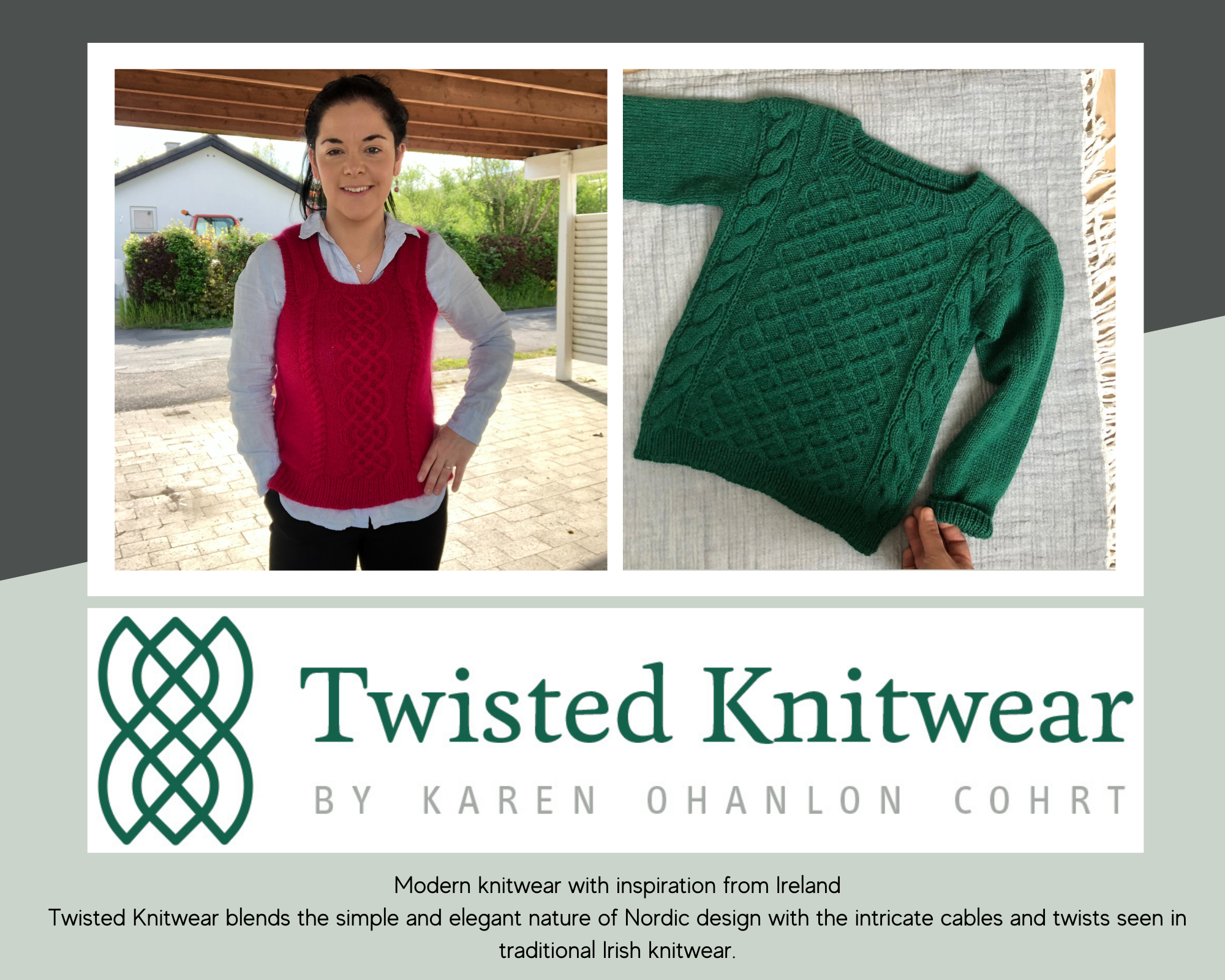 I first came across Wool In School on Instagram about a year ago and the concept grabbed my attention straight away.
I attended primary school in the late 80s and 90s and while knitting was a sporadic part of the programme – a knitting lady visited the class once in a while – I didn't get beyond plain and purl and left school with poor knitting skills and no confidence in my knitting. I don't blame anyone for it – it's just how things were at that time.
Besides knowing that wool came off a sheep's back, I had no knowledge about natural vs. synthetic fibers, I didn't know anything about the natural properties of wool, and to me all yarn was wool.
My aunt who lived in another part of the country was and still is a knitting fanatic with amazing skills. I didn't know how to get from where I was to where she was, and as soon as the knitting in class stopped, my interest faded and I didn't pick up the needles again for almost 20 years!
In 2011, I moved to Denmark after university and became intrigued by all the women – and some men – knitting in trains on their way to and from work. I saw people knitting and wearing knitwear everywhere and it looked functional and warm. People were knitting garments from socks on 4 or 5 needles to sweaters all in one piece. I didn't even realise that this was possible before!
I bought some yarn and needles and started up again, slowly, picking up where I left off all those years ago. First, it was just plain and purl, and with the help of YouTube videos I started learning new stitches and tried my hand at cables. I was hooked (or needled!) By visiting yarn shops I quickly realised that all yarn is not wool and I couldn't believe how much was out there and how functional it could be. My interest and motivation really kicked off though when I was expecting my first child in 2013, and I developed a fondness for merino wool that has stuck with me since. When it comes to knitting the Internet really is a wonderful source of inspiration, tutorials and patterns, and I was quickly knitting tiny warm baby clothes for the pending new arrival.
Learning to knit in the round on circular needles was a turning point for me. I no longer had the 'hassle' of sewing up bits and pieces and found myself being much happier with the end result. There is nothing wrong with knitting flat and sewing pieces afterwards – but for someone who was never shown how to do that I struggled to get a neat finish and often found myself avoiding certain projects because of the fear of having to assemble them at the end. Nowadays most of what I knit is worked in one piece and I find it works well for me. It also seems to appeal to the younger generation who want to knit but perhaps not sew.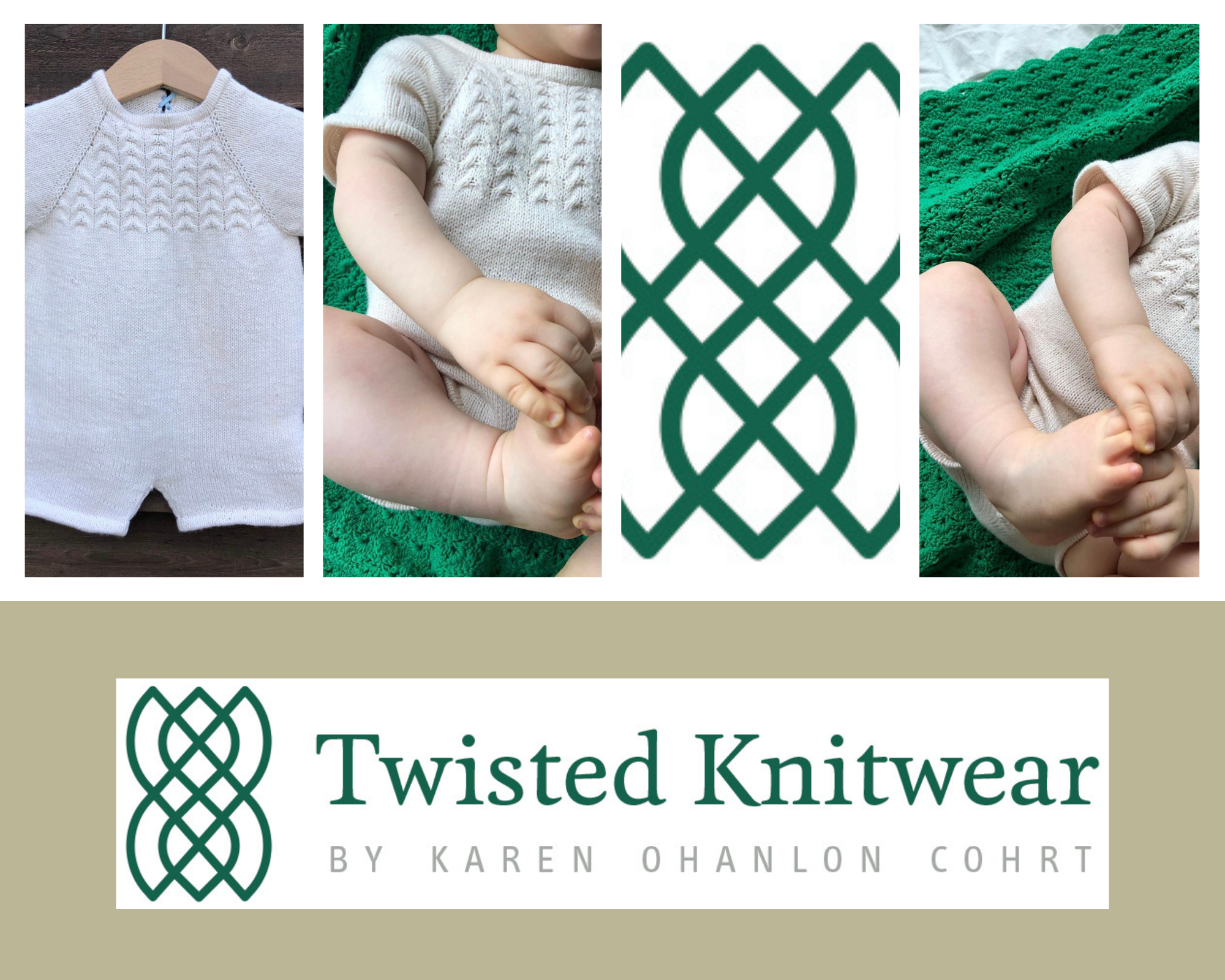 In the almost 8 years since I picked up knitting I don't think I've followed more than a small number of patterns to the core. In the beginning, I found myself making small changes either out of preference, lack of skills or more likely by mistake. After a while this evolved into deliberate changes to add something like cables or decorative buttonholes, and when my oldest was very young I made a few owls to hang over his cot. This was actually my first design when I look back. I knitted two long rectangles, folded them over, and stuffed them with cotton wool in such a way that the corners would stick up like ears, sewed them up and then decorated them. He is almost 8 now and he still has them .
My first 'real' design happened about 2 years ago when my youngest was to be baptised in the middle of summer – at 8 months old – and I had nothing for him to wear. I really wanted to knit something for the occasion but I couldn't find a pattern anywhere. I felt he was too big for a gown and I'm also not very traditional in that sense. I had the idea of a summery romper with some light cabling in my head and I eventually just went for it myself. I drew it out, started knitting, tried it on him a million times, and knit it to fit his body. It fit him like a glove and I loved the result, so I decided to write up the pattern. And it sort of went from there.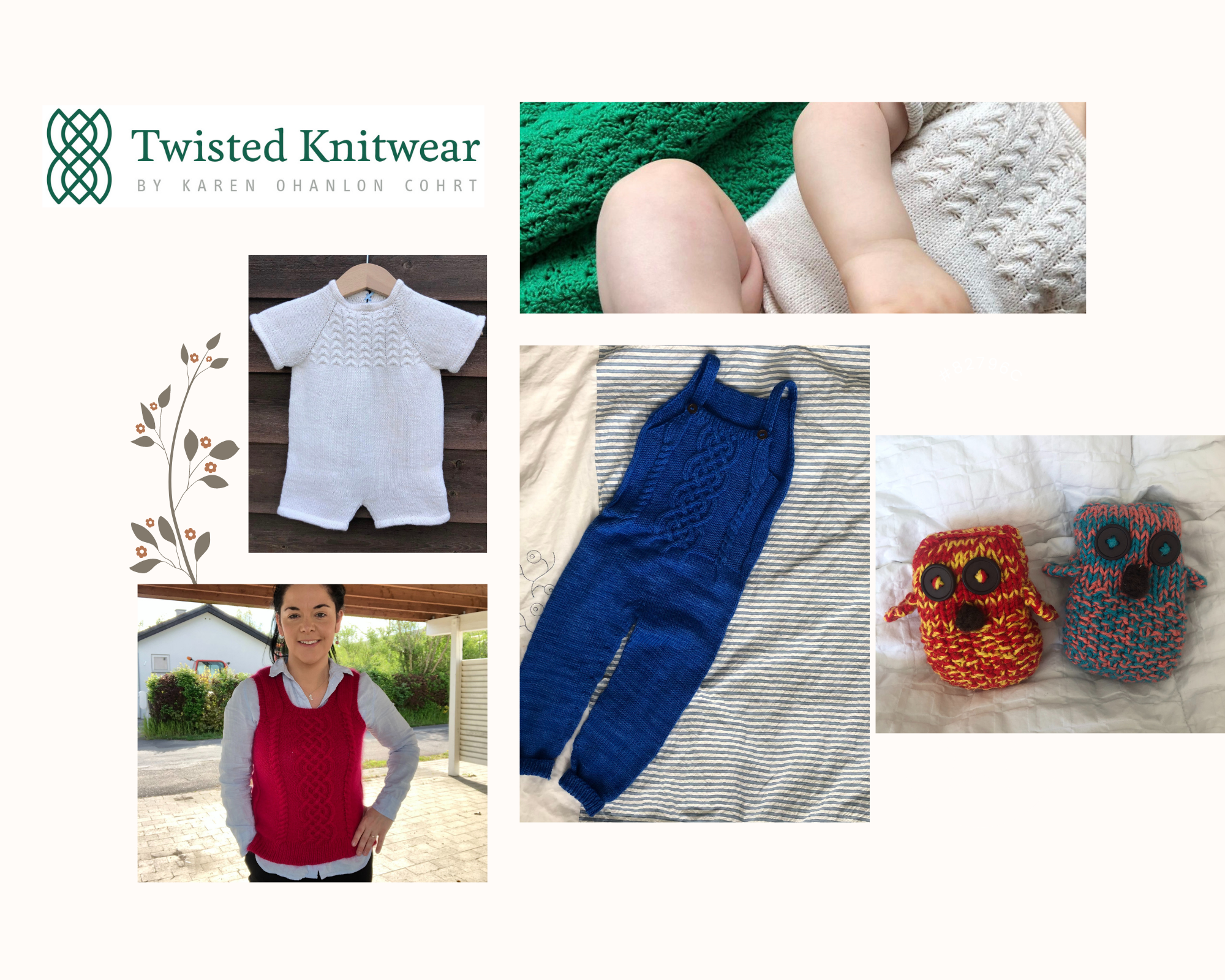 Two years on, I've definitely stuck with my Irish roots and I use a lot of cables and braids in my designs, but I also feel inspired by the simplicity and neatness of Scandinavian design. For instance, in my Irish Sweater design I have used cables and braids on the front and back but not on the sleeves. In this design, I wanted the body of the jumper to be the centrepiece, which is why the sleeves were played down. I've also been inspired by knitting dungarees and trouser sets which seem to be really popular for babies here. I just add cables every now and then.
I have two equally important criteria in mind when I make designs. The first is that the design has to look and fit well, and the second is that it has to be functional. For me functionality goes hand in hand with using good quality materials that stand the test of time, and that allow the garments to be worn for years and passed from child to child. I still live in Denmark and I love that there is such a large variety in natural fibers here, so I can choose a cotton/wool blend for summer wear, soft merino wool for baby clothes, and something like Peruvian highland wool or an alpaca and wool blend for heavier sweaters that are worn over a layer or two. I have to admit that I have also fallen for the mohair trend of late. I always prioritise using yarns from responsible sources with good animal welfare.
So back to Wool In School and why I think it's a fantastic project. I have two young enough children so my knitting time is limited and I often wish that I had learned to knit 'properly' at a younger age. I have spent years trying to educate myself about knitting, wool and other yarns, and I think it would have been incredible to get this information much earlier. Also, as an adult, I can use the Internet to source information, but this is – in my opinion – not suitable for young children – so being able to access this in school where they are together and motivated is ideal.
When we knit we are part of a massive community with long-standing traditions. Knitting is fun, relaxing and rewarding, and I think this is a wonderful gift to impart to our children.

For more information log on http://www.twistedknitwear.com
by Karen O'Hanlon Cohrt